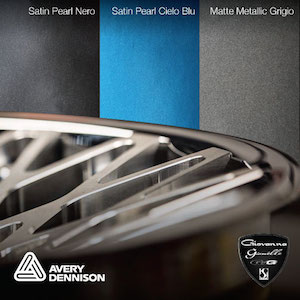 Mentor, Ohio, March 26, 2015 Avery Dennison Graphics Solutions announced today that three new colors have been added to the Avery Dennison Supreme Wrapping Film portfolio. Satin Pearl Nero, Satin Pearl Cielo Blu and Matte Metallic Grigio were created through a collaboration with international wheel designer Diko Sulahian of WTW Corporation, manufacturer of Giovanna Luxury Wheels. The Giovanna Edition of Supreme Wrapping Film by Avery Dennison includes the same performance and versatility wrap installers have come to expect with the full portfolio of Avery Dennison Supreme Wrapping Films.
The Giovanna Edition films feature a striking combination of metallic and pearlescent colors with unique finishes. Satin Pearl Nero is a black film that features a metallic pearlescent finish that results in a dynamic satin look. Matte Metallic Grigio is a matte grey film with a gold flake and Satin Pearl Cielo Blu is a light blue metallic pearlescent film with a satin finish.
"We achieved color combinations and finishes with the vinyl that just aren't available in paint and are much more affordable," noted Sulahian, who has consulted with many automotive OEM manufacturers on paint colors. "They're 3D from all angles and achieve a spectacular look in the sunlight."
The Giovanna Edition of Supreme Wrapping Film by Avery Dennison is one of the first branded collections of custom car wrap films from Avery Dennison. All of the films feature Avery Dennison's patented Easy Apply RS  adhesive technology, excellent conformability around curves and recesses, exceptional performance and provide a colored film and a protective layer in a convenient, one-piece construction.
The opportunity to work with an automotive wheel expert like Diko to create custom colors and bring awareness of vehicle wraps to a whole new market was very exciting," said Roxanne McSpadden, marketing director, Avery Dennison Graphics Solutions. "The synergy between the two organizations in creating this branded color collection of Avery Dennison Supreme Wrapping Film produced "sparkling" results."
Diko Sulahian founded custom tire company Wholesale Tire & Wheels (WTW) 19 years ago. The Giovanna Collection, named for Sulahian's daughter, launched in 1998 and is the flagship brand within the WTW portfolio. "I've been approached by vinyl manufacturers in the past, but turned them down," said Sulahian. "It just didn't feel right. The chemistry with Avery Dennison is there and I'm confident in the product and thrilled with the colors we're launching."
orginal article courtesy of graphics.averydennison.com